Who better to tell you about us than our people?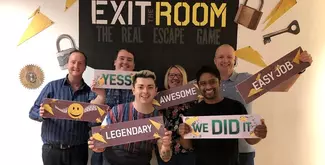 At HGS, we have collaboratively discovered the power of teamwork and how this helps unlock each of our strengths. When you join us, you will be a part of a supportive team, an atmosphere that encourages you to take on new challenges, and countless opportunities to realise your potential as we unite for a common goal—great customer service.
Zita Rushford
Operations Manager
I feel that my journey with HGS is ever changing and I am proud of the work that the team and I have completed in such a short period of time. I joined HGS in June 2017 and to see the difference we have made to our people, clients and customers is amazing. Not one day is the same at HGS and each day presents new opportunities for us to learn and develop ourselves.
Steven Campbell
Customer Service Agent
My drive to succeed and the team that I work with at HGS gave me a chance at a new career. What I love most about HGS is the people. It's a good place to work — they look after employees and give us a chance to succeed.
Sarah Justin
Customer Services Advisor
What I like about working with HGS is the chance to work with great colleagues and learning new tasks. Working here has taught me not to give up and not to let people put me down.
Carlo Sanfilippo
Customer Services Advisor
My job allows me to meet the demands of the consumer on a friendly level. I can help with problems and agree on solutions. I am always happy to take a negative and turn it into a positive.
Alan Tabern
Trainer
My favourite thing about HGS is the people. It's a company that will work with you. Wherever you start off from, HGS gives you ways to progress in your career through training and mentorship.
Our
Recruiters Speak
Our recruiters, your first points-of-contact, are the best people to give you a wholesome picture of everything a job with HGS would entail. Catch all the pertinent points they make about life at HGS.
Enter A World
of Opportunities