Rachel DeJesus is one of our Product Specialists in HGS-USA and this year, she's celebrating 25 years with us. She shares with us her experiences of working with HGS.
How has your journey been over the years?
If I had to look at all my years here, I would say a lot has changed from then to now. As HGS, we're much larger now and organized differently, in that we are all dedicated teams for each account. Before the acquisition, all of us were hands-on, taking all kinds of calls for all our clients. Now, there are even alternate forms of customer service like email and chat. During all this time, the one lesson that has stayed with me is that the only dumb question is the one you didn't ask.
What inspires you at work every day?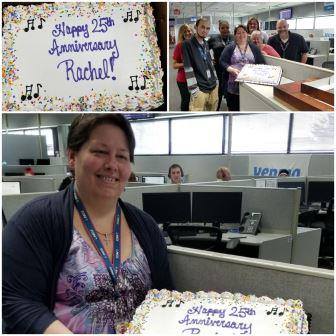 That would be my team. I have always enjoyed working with these people, and I can thank HGS for making more of these friendships possible. The atmosphere of teamwork on the floors is on a level I've never experienced in any other job before. This aspect of the culture here really stands out for me.
Do you talk about HGS to people outside?
I do! When I meet people in the world who I think should work with us, I tell them that we could really use someone like them on our team. I talk about the supportive work atmosphere where everyone's ideas are encouraged, welcomed, and appreciated. I always tell them how there are so many opportunities to grow at HGS and how I don't think I've even scraped the surface in my 25 years here.
What do you like best about your job?
I have the privilege of working on one of our financial accounts, where I help our client's customers use the product through chat, phone, and email. The brand is a lot of fun, and I love that I work with users directly, so there is a chance to build rapport. By the end of our interactions, they know they are part of our family.
What are you popular for at the office?
I've been told by my team that they like how I take time to help others find information and that I'm patient about working through clarifications.