Who better to tell you about us than our people?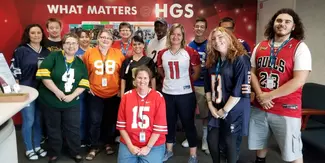 At HGS, we have collaboratively discovered the power of teamwork and how this helps unlock each of our strengths. When you join us, you will be a part of a supportive team, an atmosphere that encourages you to take on new challenges, and countless opportunities to realise your potential as we unite for a common goal—great customer service.
Ryan Russell
Quality Assurance-Operations
Since joining HGS, not only have they helped improve my abilities as an employee, but they have also helped me continue to work on growing as a leader. It's amazing to be a part of a company that is so devoted to building up their employees and helping them strive and prepare for larger roles.
Sandy Ward
Customer Service Representative
I have worked at HGS for 4 years. One of the reasons I have stayed at the company is they do offer excellent benefits, which is really important to me. I also like the fact that if you are a good worker and have good attendance, you are rewarded with salary increases and shift bids.
Mike Mitchell
Operations Manager
I have been employed with HGS for 20 years now. The biggest draw that has kept me with the organization is two-fold: the growth within the company and the people. My HGS co-workers are like family. Everyone is always friendly and easy to talk to.
Amy Henry
Recruiter
I've always had a passion for helping people, and with my role at HGS, I'm able to help people explore meaningful career paths.
Hector Zapata
Team Leader Operations
I love that you can move between departments, grow your knowledge and be developed. The biggest impact HGS has had on me is that I have seen managers receive feedback and act on it. They take the feedback to heart and as long as it's within their power they will do something with it. You don't see that often in organizations, and it's good to know that an employee's voice and opinion is seen as important.
Our
Recruiters Speak
Our recruiters, your first points-of-contact, are the best people to give you a wholesome picture of everything a job with HGS would entail. Catch all the pertinent points they make about life at HGS.
​​​​​​​
Sierra Seetram
Recruiter
We have an incredibly fast-paced environment at HGS. All our team members are unique professionals with a common drive and passion for growth, and this has such a positive impact on the way we work. We have a lot of fun with engagement activities like spirit week. To me, this makes HGS remarkable.
Aaron Stewart
Work@Home Recruiter
Working with HGS is an excellent opportunity to join a diverse global company with opportunities in a wide variety of roles, all of which set you up for success! I love the challenge of making another person's life a little easier and seeing them succeed. We are all building this organization up with our work, team spirit, and inspiring work environment every day.
Enter A World
of Opportunities