Evan Camp is an assistant operations manager in HGS-USA. Here, he reflects on the time since he got assimilated into the organization and his experiences with the work, culture, and his team.
How long has your stint been?
I've technically only been an HGS employee since August of 2015. However, I started with Colibrium in September of 2013 as a licensed sales agent. When the conversion from Colibrium to HGS occurred in 2015, I was in a role similar to that of an assistant operations manager, which was my first position as an official HGS employee. Since that time, our program has grown tremendously, and I have personally seen the benefits of working for HGS. At Colibrium, we had very little guidance and only a general understanding of what it meant to be a value-adding partner for our clients. Colibrium also lacked the tools and resources that are vital to our success. Having tools like Work Force and Realtime to assist with scheduling and forecasting are the full responsibility of the operations management team. More complex items like creating training and compliance content are also the responsibility of the program specific leadership team. While my direct supervisor, Sharon Boone, has always been an incredible source of learning and guidance, working with HGS has exposed me to a broader audience of subject-matter experts. These interactions have also helped me grow as a leader.
What motivates you every day?
I come to work every day, inspired and excited by three things:
1. The opportunity to solve problems: This is one of my favorite parts of the job. I am challenged on a daily basis to find solutions to different issues. One day, it might be staffing; the next, technology; the following, it might be anticipating the client's needs and delivering results before they ask any questions.
2. Winning: I am a deeply competitive person, and I love to win. That desire to win motivates me to do everything in my power to make sure we meet/exceed our SLAs, create a fun and positive work environment, and never stop aiming higher.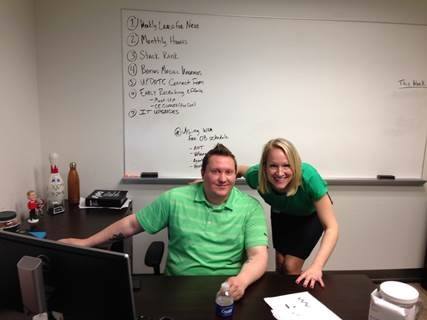 3. My agents: This is the most important motivator of all. I take enormous pride in the team we have and their incredible ability to deliver. Every day, we are working to prove the value we provide to our client. Because of our success, we can offer year-round employment to dozens of skillful people, and that number is growing every year. I have also had the great privilege to see some genuinely talented people grow from agent to leadership positions, move on to other programs with great success, and even in some cases, leave HGS for other opportunities; thanks to the growth they experienced while working with HGS. Without a doubt, the people—every Agent, TL, QA, Trainer, IT, HR, and any other members of the team I missed—are the reason I stay with HGS.
What strikes you the most about HGS?
HGS gives a voice to teams that work on programs every day. If one of my agents or TLs has an idea for how to improve the program or our morale, it is possible for us to act on that. Many companies say "everyone has a voice," but few mean it. HGS means it. It is a continually growing company filled with great people. The constant growth provides ample opportunity for development, both personally and professionally. The great people make coming to work every day enjoyable.
What do you do and which part is your favorite?
I oversee the day-to-day operations of the Centene (ACA Healthcare Telesales) program. That includes everything from tracking hours and sales, developing ramp-up plans for Open Enrolment season, interviewing, hiring, onboarding, and overseeing training plans to working with our client to create and implement new processes and strategies. Occasionally, I am given the opportunity to work with the Client Services team as a representative of the Operations team to prepare proposals for new business. My favorite part of my job is planning out our ramp-up strategy. That includes determining agent headcount, leadership headcount, call volume forecast, sales forecast, training timelines, and of course, onboarding hundreds of new agents.
What are you popular for at the office?
I like to have a good time so I take every opportunity to crack a joke (usually poking fun at myself). I'm also known as a bit of a gambler and I'm always willing to make a bet. My favourite is to bet that out of 30 people, 2 will have the same birthday (date and month). Surprisingly, at 30 people, you are a 70% favourite to win. At 23 people, it is 50/50. I am also known to enjoy a good meal.