Who better to tell you about us than our people?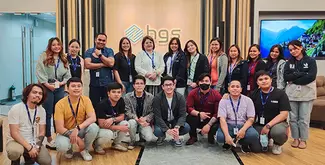 At HGS, we have collaboratively discovered the power of teamwork and how this helps unlock each of our strengths. When you join us, you will be a part of a supportive team, an atmosphere that encourages you to take on new challenges, and countless opportunities to realise your potential as we unite for a common goal—great customer service.
Ronwaldo Reyes
WFM Planner
Hi my name is Ronwaldo Reyes. I was a Real-Time Analyst and have recently been promoted to Workforce Administrator. Since starting to work for HGS, I have been able to develop my self-confidence with the guidance of my supervisor. I am very glad that I was able to join this organization, and I'm sure that I'll continue to grow while working with it. Yes, I've been a part of the VPO industry since 2006, and at first, I thought I already knew everything about the business. However, from day one of working here at HGS, I found out that there's still a lot to learn. With the help of my supervisor, the leaders within the organization, and my colleagues, I have been able to further develop my skills. The huddle sessions and coaching sessions that we have every week have helped me improve more in the things that I do.
Marino Basconcillo
Interim Team Captain outbound CSR AON
Hi, I'm Marino Basconcillo. I was previously an outbound CSR. I have recently been promoted to the position of Team Lead after working for two years as a customer service representative. I must say that I have learned and understood the customer mindset. I even volunteer for training and mentoring new teammates. I believe these are a few reasons why I got promoted to a team leader role understanding teammates and their individuality helps me get the role. I'm a very passionate and hard-working person, and I continue to carry these attitudes. I think, for me, this is what really matters the most.
Marichu Simborio
Line Trainer
Seeing myself 12 years ago, I wasn't confident and was easily intimidated. I can say that HGS has helped me become confident and sociable. I've become hungry for continuous growth and passionate to become successful. In terms of opportunities, I have been given a lot, from being an SME to a team leader and now a trainer here at HGS. The company has given me the opportunity to share what I've learned, learn from them, and as well as share these opportunities with the future leaders of HGS.
Maria Socorro Paz Cubelo
Customer Care Team Lead
Hi, my name is Maria Socorro Paz Cubelo. I was an Assistant Team Leader before and was just recently promoted to customer care team leader. I believe in myself more and believe in my own capabilities. I have also developed self-awareness that helps me make better decisions at work and on a personal level. I have been provided with opportunities to share my expertise and skills with the team, which would be very beneficial to the company. And the training courses and mentoring opportunities that would help my personal growth in the company.
Justin Valiente
Real-Time Analyst
Hello, my name is Justin Valiente. I transitioned from a Team Lead position to working as a Real-Time Analyst. It's been four years since I started here at HGS, and three words that describe my evolution here are upward, learning, and still evolving. Many opportunities have been given to me here at HGS. Back when I was in the leadership team, we had monthly meetings and coaching sessions to enhance our skills. As a real-time analyst, we also training aligned to specifically with the CO PC.
Our
Recruiters Speak
Our recruiters, your first points-of-contact, are the best people to give you a wholesome picture of everything a job with HGS would entail. Catch all the pertinent points they make about life at HGS.
​​​​​​​
Nadine
Recruitment Specialist
HGS is my very 1st company after graduating in college, it gave me growth personally and professionally. I will always remember my failures as a newbie because it taught me lessons that brought me to success as a Corporate Recruiter. There are still a lot to learn, and I am very willing to experience all learnings in this company as it prioritizes the growth of its employees. The leaders here are very warm, thoughtful, encouraging, and inspiring. Looking forward to be spending more years in this company. If you are looking for a great start with greater opportunities, HGS is the right company for you.
Rona
Recruitment Sr Specialist
In HGS, I found a home where I see myself growing. My journey in this company started as an HR Shared Services recruiter, I was new in the Recruitment function, but it didn't feel like it because the people I met were very helpful. They taught me essential and valuable skills that led me to where I am now. One of the reasons why I came back to HGS would be the experience where they exude positivity in difficult circumstances. I feel so honored for the opportunity and the trust to handle one of the biggest accounts and be part of the Corporate Recruitment Team. I am looking forward to be working at HGS for many more years.
Enter A World
of Opportunities