The corporate world is full of opportunities. Each year millions of candidates become part of it. Anybody with the right attitude and mindset can do well. As they say, "Well begun is half done"—if you start this journey on the right note, it will help you transition and settle into the corporate life faster. Here are a few tips as you embark upon this exciting ride!
Initial Processes and Documentation
Each organization has a roadmap for new joiners. It includes several factors such as HR formalities, bank formalities, obtaining access to relevant portals and systems, induction, mandatory training, etc. Ensure that you finish all these steps within a stipulated time. Having these basic yet key tasks completed will ensure a streamlined and systematic arrival into the corporate world.
Know Your Organization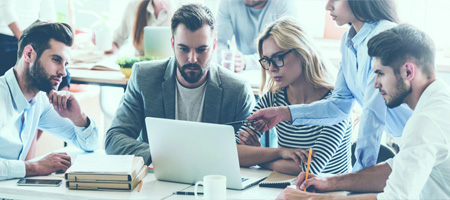 Research as much as you can about the industry and specifically about the organization you are about to join. Read up annual reports, website, analyst reports, and media reports. Follow the company's social media pages. Being knowledgeable makes a very good first impression and shows your seriousness and commitment towards the new role you would be taking up.
Spend extra time to learn and understand about your work responsibilities. Don't hesitate to ask questions if you don't understand something.  Get to know people around you well. Observe the workstyles of your colleague, their roles and responsibilities. This understanding will help you assimilate faster in the team and also align better with the team members' expectations.
Each organization has a unique culture and a set of values it holds core to its existence. Understand the mission, vision, and values of the organization because in many ways, they represent the 'higher purpose' of its existence. Once you understand the broader picture, you will know how your contribution helps achieve the organization's goals.
If you have to go the extra mile in terms of work hours in the initial weeks or months, don't worry! This is probably your best investment that will set you up for long-term success.
Manners and Etiquettes
Manners and etiquettes will never go out of fashion. Always be respectful, punctual and abide by all company rules and regulations.  At all times, bear in mind that you represent the brand and your actions and decisions impact the perceptions about the brand. Dress appropriately as per the culture of the organization. Proper and professional conduct at work indicates that you appreciate your organization and respect the people around you.
Adhere to Attendance
How well you maintain your attendance is something that plays an integral part in creating an impression in your workspace. Your organization will have its own rules and regulations regarding leaves. A good idea would be to get an understanding of the leave policies of your organization as early as possible and to always adhere to it. Similarly, being punctual and clear about office timings sends the message that you are serious about work and your career.
Goal-Oriented
As you step into corporate work life, understand what is expected of you in terms of work responsibilities. Your manager will help define them for you. They would also introduce certain objective criteria to assess your performance, which would be reviewed periodically as well as at the end of the year. Familiarize yourself with this performance evaluation system and align your efforts towards achieving these defined goals or criteria. Being focused and goal-oriented will ensure that you use your time productively and perform consistently. It's a great way to bring structure to your responsibilities, leverage your strengths and identify areas where more effort is needed. After all, individual goals enable the organization to achieve its full potential.
Reliability
As you traverse the corporate path, ensure you deliver on your commitments consistently and come across as a valuable team member. Complete the assigned tasks ahead of time, acknowledge and appropriately respond to all official communication, and be ready to go above and beyond the call of duty. This will help you build credibility among the team members early on. Keep an open mind, seek opportunities to learn and grow your skills, and extend a helping hand where you can.
So are you ready to make a good first impression as you enter the corporate world? If you follow these tips, we are sure you will be off to a great start!